28 juillet 2013
This the maid of the mist. It is a big boat that we went on that goes very close to the falls.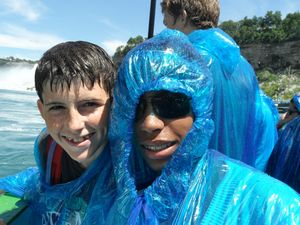 This is Eli and Emma on the maid of the mist. The blue plastic bags are to protect you from the water but we all got very wet anyway.
This is one of the falls with the made of the mist below
We all chose one attraction on the big street close to the falls. Eli chose Mini Golf. He won. Emma chose Ghost Blasters. It is a game where you go through a haunted house and shoot at targets. Alana chose the arcade where we are took a turn at playing Deal or No Deal. We won 107 tickets at the arcade. We used them to get prizes. Emma got a googly-eyed ring, Alana an eraser and eli a top.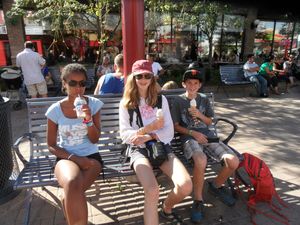 We all ate an ice cream before leaving.
25 juillet 2013
Wednesday we went to the African Safari!! We saw lots of wild animals from the confort of our car. We took lots of pictures. For the most part, the animals weren't super close to the car except for when the time the baboon climbed onto our car or when there was a bison road block. Girls rode an elephant.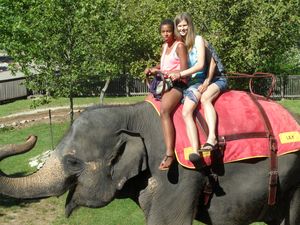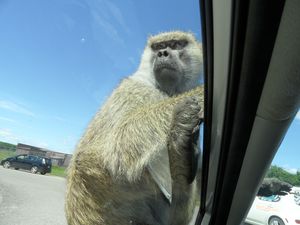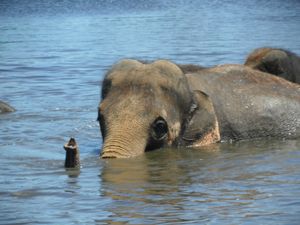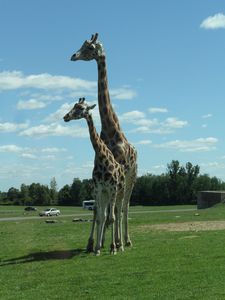 23 juillet 2013
We have a lot of pictures of the week end :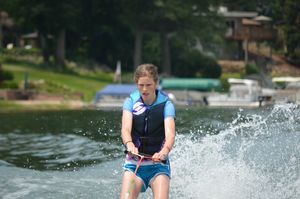 Eli, Alana and Emma on a tube.
Eli, Alana, Emma and Myel on tubes.
Emma and Alana on the same tube and Eli.
Alana water skiing.
All mornings Maddie and Emma made a different breakfasts: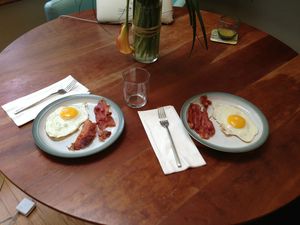 They ate bacon and eggs, and pancakes with nutella, peanut butter etc.. Thursday they ate a nutella cake in a mug, but they didn't take a picture because it was not really luscious but it was very good. :)
When Emma was in Maddie's home, they took the tram and the subway. They watched two movies (one in english with spanish subtitles).
The second day they went to an other swimming pool,it was very good. Then Maddie had a soccer match and Emma, Laurie and Alex
(Maddie's friend) watched the game, unfortunately they lose, but it was very funny and good !! The third day they shopped to Eaton's (it's a big mall), Emma bought a lot of thing, and she was very happy. And the night Park's family, Elder's family and Emma ate together ! Emma and Maddie was very sad to leave ...
17 juillet 2013
Tuesday, alana got up at 6:30 to go swimming at pool for the length swim form 7-9. She is training for the camp that she will be going to that takes place on a tall ship. She swam ten lengths and then immediately treaded water for 10 minutes. She talked to Lara on facebook who says she is having trouble viewing the blog and who like Emma to try to view it from Maddie's computer. In the afternoon, she went to the doctors. They told her that her finger was not broken but the tendon was inflamed and possibly the joint as well. They told her that she can not play tennis or rock climb for a while which is a shame. When she got home, she decided to try to make a pair of earrings similar to the leaf ones that she saw with Emma at a small boutique the day they had their mani-pedis. After dinner she played a game with her mother (and won) :). Before bed, she watched Devil Wears Prada because she had forgotten that she had already watched it.
Meanwhile, Emma and Maddie...
15 juillet 2013
This morning, Alana, Eli and Emma played tennis, but it was too hot ! After they came back home and they took their showers, John, Joanne and the children finished the game: Quirkle. When the game was finished, John made spaghetti. After lunch, Joanne brought Emma to Maddie's house. Maddie gave Emma a tour of her house, and then they spent a while deciding what to do. They decided to go to the swimming pool. In the changing room, someone came and told them the pool was closed because someone fouled it. After they went to Yogurty's (a frozen yogurt shop) and they ate their fro-yo while they walked home. They came back home through the park and got a little lost on the way. When they arrived home, they played a game and after they ate the dinner .
14 juillet 2013
Emma and Alana woke up at 3 am and they slept again. Alana woke at 6 am and Emma at 7 am. Then Joanne made some pancakes, it was very very good ! After Emma, Alana and Eli played badminton in the backyard, Eli won the match. We started a game with John and Joanne but we didn't finish because we had to go to eat at High Park before Alana and Emma went to their manicures. Girls are very very happy, it was the first time for Emma.
After we went to the swimming pool with Joanne, Eli and his friend, Noah. The water was good. The swimming pool was free but we had to take a test to prove that we could swim. We had fun. Then we came back home and we wrote the blog. :) This night, friends of the Park family will eat with us.
Tomorrow Emma will go to Maddie's home for 4 days.
Samedi nous nous sommes levees vers 7h15 car nous avions notre avion !!!!
Nous sommes parties de la maison a 8h40, ensuite nous avons fait la queue pour enregistrer nos valises. Le Mr a appele Emma: Josephine, c'est son deuxieme prenom. Il nous a dit d'attendre jusqu'a 9h50, pour que quelqu'un vienne nous chercher. Nous avons attendu longtemps et personne n'est venu, Emma etait un peu stresse car elle avait peur de louper l'avion, Alana etait tres relax. Emma n'avait pas l'accompagnement normalement mais elle a quand meme suivie le groupe. Nous n'avons fait aucunes queue ! Alana et Emma etait a cote. Le voyage s'est bien passe mais il n'y avait pas d'ecrans individuels, il y avait que des grands ecrans. Emma a dormi. Il y a eu 2 films projetes. Puis nous sommes arrivees a l'aeroport de toronto,nous avons retrouvees Joanne et John ! Nous sommes arrives a la maison, Emma etait tres impressionnee. "On se croirait dans Desperate Housewives".
L'apres midi, Alana et Emma ont fait le tour du quartier, puis les filles sont allees faire les course dans le supermarket, qui est tres grand !
Emma et Alana etaient fatiguees, elles se sont couchees vers 9h !
Le lundi, nous sommes parties apres mange, pour aller a colleville sur mer, c'est la ou il y a le cimetiere americain, et la plage d'Ohama Beach. Nous nous sommes balladees dans le cimetiere qui est geant !! Mais nous ne sommes pas allees sur la plage car il y avait beaucoup de vent. Ensuite nous avons visite le musee de colleville, nous avons pu voir beaucoup de choses sur la guerre, comme les tanks, les avions, les vetements, les armes etc... Ce qui nous a le plus plu avec Alana ce sont les criquets, c'est un objet qui servait aux soldats pour communiauer entre eux et que personnes d'autre ne puisse les comprendre. Ensuite nous sommes allees a Arrovanches pour voir un film sur le debarquement, c'etait un film a 360 degre, il y avait 9 ecrans et nous etions au milieu de la salle et nous devions nous tourner, a la fin on a eu un peu mal a la tete.
Puis nous avons decide que nous allions manger a Cabourg, une ville pas tres loin de notre maison. Le restaurant s'appelle Les Edelweiss, c'etait super ! Emma et Valerie ont pris une tartine a la sauce tomate, jambom, fromage et en plus une fondu au fromage avec du pain, des pommes de terre, des saucisses, mais c'etait copieux, Alana a pris une galette " La Lady" (bacon, fromage, oeuf). Nous avons toutes pris un dessert, seulement par gourmandise; Emma a pris une crepe au nutella, Valerie une au sucre et Alana une nutella banane, au depart elle voulait prendre la "Harry Potter" ( nutella, glace a la menthe, brownie et banane) mais elle n'avait plus faim donc elle a pris plus leger. Ensuite nous sommes rentrees a la maison.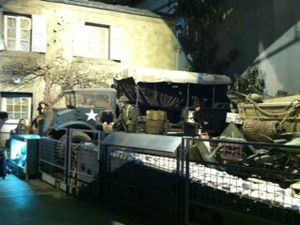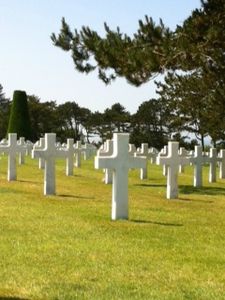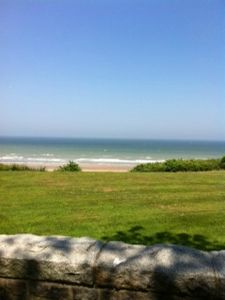 Il y a avait des cours de tennis tout pres de notre maison et des que nous sommes arrivees, nous avons reserve un cour pour lundi. Apres s'etre bien amuse le premier jour, nous avons joue encore mercredi, et jeudi, et verdredi. C'etait toujours la meme:
Heure:10h - 11h. Prix: 13 Euro. Cour: #1 - le cours des winners.
Lundi, nous avons commence un peu raide mais apres que nous nous sommes echauffe, on a reussi a frapper la balle 11 fois. Mercredi, pour une raison ou une autre, Alana n'arrivait pas a jouer. La seule fois qu'elle s'est ameliore ce jour la etait quand nous avons fait un match, car cela la motivait. Apres les heures que nous avons passees a jouer, le vendredi nous nous etions beaucoup ameliorees. Ce jour la, on a joue pendant 1h30. Nous avons voulu demander une reduction car nous avions deja joue 3 heures, mais nous avons oublie.