23 juillet 2013
All mornings Maddie and Emma made a different breakfasts: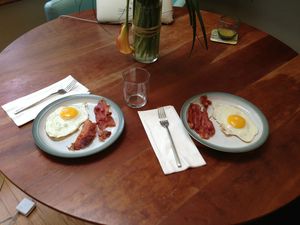 They ate bacon and eggs, and pancakes with nutella, peanut butter etc.. Thursday they ate a nutella cake in a mug, but they didn't take a picture because it was not really luscious but it was very good. :)
When Emma was in Maddie's home, they took the tram and the subway. They watched two movies (one in english with spanish subtitles).
The second day they went to an other swimming pool,it was very good. Then Maddie had a soccer match and Emma, Laurie and Alex
(Maddie's friend) watched the game, unfortunately they lose, but it was very funny and good !! The third day they shopped to Eaton's (it's a big mall), Emma bought a lot of thing, and she was very happy. And the night Park's family, Elder's family and Emma ate together ! Emma and Maddie was very sad to leave ...
Commentaires sur Breakfasts